Calzone pockets are the recent juicy and spicy addition in the delicious yet diverse menu of Domino's. Calzone Pockets are prepared with the freshest of ingredients, zesty tomato, chilly sauce, delicious stuffings and seasoned cheese.
Every bite gives you an exotic taste of flavours of the brilliantly put together ingredients and perfect seasoning. It is available in both Veg and Non Veg.
Like every other Domino's TVC which revolves around relationships, the Calzone Pockets TVC focuses on making your relationship Juicier and Spicier with your partner. It revolves around the idea Rishto ko phirse thoda spicy thoda juicy banate hain'
Watch it here: http://www.youtube.com/watch?v=kVF0XdOJUP8
On Social Media platform we took the TVC to a next level by not only promoting Calzone Pockets but also promoting the core idea behind the TVC i.e. bringing flavor and fun back into your relationship.
We started off by showcasing the teasers saying: The juice and spice in your relationship. Coming back soon.

 Next step was to reveal the product & the TVCs on the Domino's India Facebook Fan page.
Once the fans were aware of the Product and the idea behind it we launched the 1st initiative of our Campaign, which was sharing Juicy and Spicy Shayari.
In the 2nd Initiative we shared RelationTips with the fans on Domino's India Facebook Fanpage to revive their Juicy and Spicy Relationship with their partners.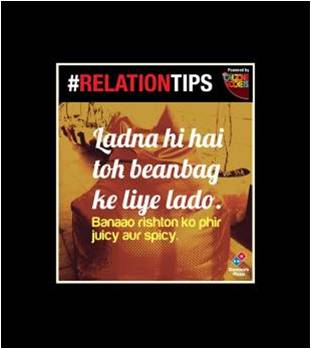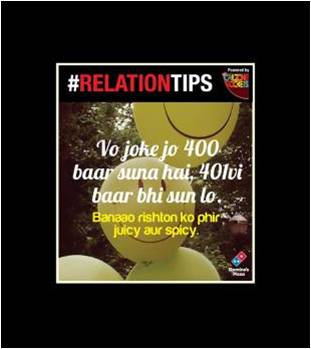 In the second phase of the 2nd Initiative, fans were asked to complete the quote. The wittiest reply won a Domino's voucher.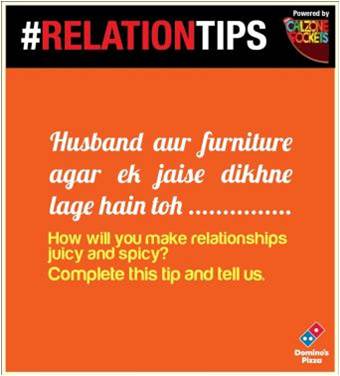 Our third initiative was the 'Relatoscope' Contest, wherein the fan had to upload their picture with their partner on Domino's Pizza India Facebook wall. We started with the teaser of the contest.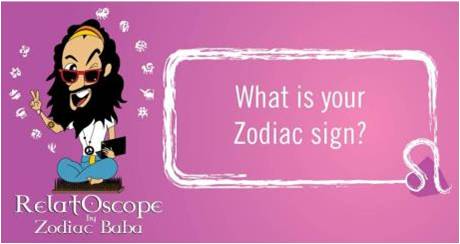 Once the contest was announced, people started uploading their pictures with their partners on our wall.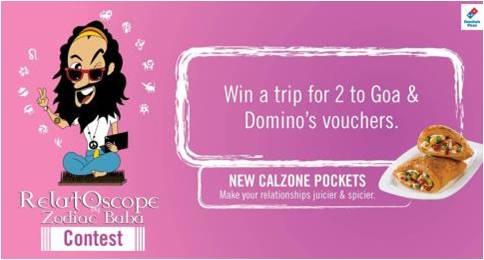 Every pic that was uploaded on the wall got a comment from Zodiac baba.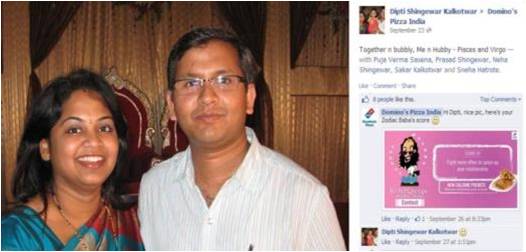 Everyday 10 pictures were shortlisted on the basis of the compatibility of the couple in the picture. The picture with the maximum likes within 24 hours was announced as the winner.
On the 10th day the final shortlists were declared for the Goa trip, the criteria being the same i.e. to get maximum likes. The following were the final shortlists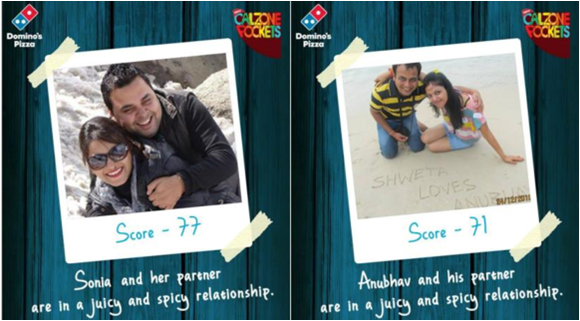 Since the competition was very close 2 winners were declared for the Goa trip.Sonia and her partner and Anubhav and his partner were Joint winners.We received 415 entries and over 10,000 likes were received on the wall.
Couples of different age group participated in the contest and made it a huge success.
Further on Twitter we launched 5 different contests with different and fun hashtags revolving around the same idea.
Contest 1: We launched #JuicySpicyRelationship  on Twitter which was trending at No2 in India and Worldwide.
Contest 2: #ZodiacBabaKiJai which trended at No 3 in India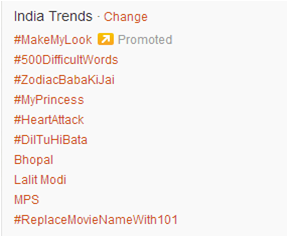 Contest 3: #JuicySpicyRelationship (Part 2) which trended at No 5 in India
Contest 4: #RelationTips which trended at No 1 in India and No 2 Worldwide
 Contest 5: #MeraLoveSign which trended at No 1 in India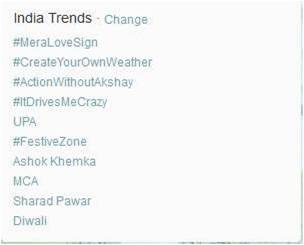 Some Tweets from our fans were: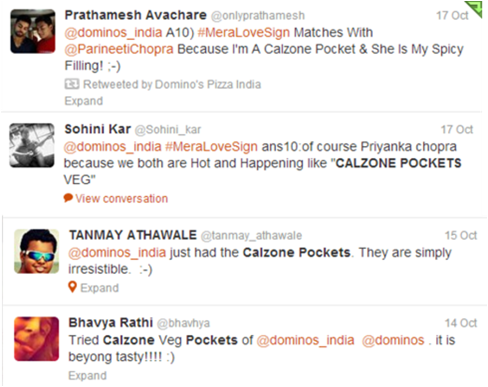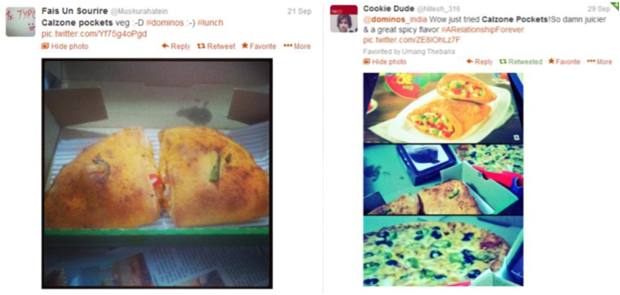 But the fact remains that our main target behind the whole campaign was achieved which was:
 Rishto ko phirse thoda spicy thoda juicy banate hain'
"Kyuki Yeh hai Rishton ka time"