Coke Studio @ MTV has released a teaser of what to expect in the next episode that goes On Air this friday (July 1st).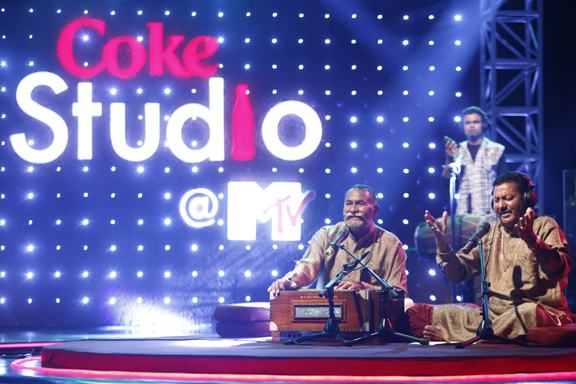 The artistes that will be performing are -
the Wadali Brothers from Punjab, who rooted in the Sufi tradition and bring to the table genres like Gurbani, Kaafi, Ghazals and Bhajans. With their traditional folk background, we hope they would make a perfect base for a yummy musical pizza!
the ever popular Sunidhi Chauhan, who began to sing at the age of four and still continues to, with her own touch of class and grace. With the ability to bring out the most difficult of nuances with ease and that marvellous voice of hers, she is definitely going to tbe the crowd's favourite topping!
Mausam Gogoi from Assam, brings the touch of the north-east into this party. What started for him as silly stunt at college has now grown to be his biggest passion – music. He could well be the surprise element or the secret ingredient that we are looking for.
Music is incomplete without rhythm and Bondo Fernandez will provide precisely that, come Friday evening. An internationally renowned percussionist, we expect Bondo to give us some foot-tapping rhythms that will blow the world over but yet take us to back to precious Goan childhood.
With a combination that covers the North, South, East and West, one just cannot go wrong! What do you think? Tell us your opinion in the comment box below!
Come 7pm on Friday, order your pizzas (remember we are 25% off on Coke Studio Fridays!), get comfy on the couch and let the music begin!