Domino's has always been a forerunner when it comes to bringing the best of both the worlds. Bearing the torch for innovative food recipes, Domino's is famed for breaking the borders with food. Known for a soul stirring taste, our gastronomic journey has another milestone.
Introducing a fusion recipe that will entice every Indian- The exciting Italian delight with a Desi punch and the end result is  Paratha Pizza. The product brings together the wholesomeness of Paratha and Cheesiness of Pizza in the new Paratha Pizza range.
Perhaps this is what we call a complete makeover, Domino's latest entrant paratha pizza is filled with an amazing goodness of local flavors and Italian cooking technique that will simply slide your tastebuds to heaven.
Check out the domino's menu to see the details of these delectable flavors. Domino's paratha pizza is available in three flavors:
Corn & Cheese Paratha Pizza
Paneer Paratha Pizza
Chicken Keema Paratha Pizza.
Indian comfort food now gets an international touch. Pizza parties are now more elaborate, inclusive and practically for everyone in the family, for the new Paratha pizza can please all with its range of options.
Corn And Cheese Paratha Pizza
This delicious fusion of corn stuffed paratha with the tasty flavors of cheesy pizza will knock your socks off! This is a delicious combination like never before and will be a hit among the corn lovers. With great offers and reasonable prices, this will soon become your go to order for all your laid back days. Just look for Domino's paratha pizza near me and you'll be able to place  an order with Domino's for this cheesy delicacy.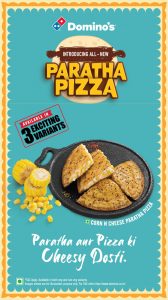 Paneer Paratha Pizza
An ode to all the vegetarians and paneer lovers, the paneer paratha pizza offers the scrumptious combination of soft luscious paneer along with the tangy cheesy pizza sauce blended with melt in mouth hand kneaded dough. This epic fusion of paratha and pizza with the melting cheese and paneer filings will quickly satisfy all your indulgent cravings.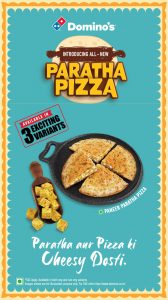 Check out for more details and place an order from our app.
Chicken Keema Paratha Pizza
What's better than delicious chicken and cheesy pizza? Domino's all new chicken keema paratha pizza. This amazing flavourful meaty chicken keema paratha paired with the goodness of hot cheesy pizza coming together in an epic crossover, is the answer to all your cravings.
A hit among chicken lovers, this is the best option for non vegetarians as the paratha pizza price is so reasonable that you will not be able to stop yourself from ordering it again and again.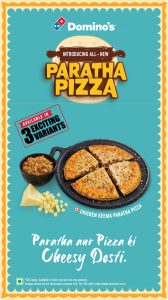 Grab The Best Deals And Offers On Your Next Meal
The all new range of paratha pizzas are delicious, inexpensive and made with the best quality ingredients to satisfy your tastebuds. The next time you miss home food, or want to enjoy a quiet family celebration or a simple "metime" moment , just log on to the Domino's app and place an order for these paratha pizzas.
The Domino's app has some of the best deals and offers that you can make the most of while placing your order. Check out the various coupons while making your payment and place your order now.
Domino's makes sure that your meal reaches you while it's hot and fresh out of the oven. The delivery partners will reach you with your meal in no time so you can enjoy it to the fullest.
The Domino's menu has so much variety in pizzas and options in side dishes that you can easily add a few more delectable items to your order and have a meal that you will not forget.