For the people who loved with all their heart the whole year, February is a blissful month where they finally allow their feelings to show without much hesitation. It is a month of forging new bonds, renewing old relationships, going that extra mile for the people that actually matter and giving them many thanks for making this life so beautiful and delicious.
Open up your hearts and profess your love to your sweetheart, friends, and family.
Here are the 7 days of Valentine and many ways to do so. Place your hand on your heart and read on with delight about the lovely Valentine's week.
1.Rose Day – 7th Feb 2020, Friday
The simplest and most beautiful form of expression of love, a single rose has the magic to light-up the most gloomy of hearts and rekindle an old feeling.
It can be a whole bouquet or a single rose. What counts is that you extend it to the person that means the most to you in the whole wide world.
2.Propose Day – 8th Feb 2020, Saturday
Even though the people in your life know that you love them, sometimes saying it out loud can make them realize how precious they really are.
This is the lover's day to do just that. Want to ask someone to be your life partner? Go ahead. Get down on your knees. Break the barriers, tell your parents or children that they are the love of your life. Speak up, write it down and let them know your true feelings. Maybe in your daily routine, you wouldn't get a chance to do so.
3.Chocolate Day – 9th Feb 2020, Sunday
Men and women both love chocolates. And gifting chocolates is the best way to let their sweetness slide into your relationships.
For several years, we saw couples of all ages come to our outlet just for the melting sweetness of our choco lava cake. It has always been a delightful sight for us, seeing two people often share this love of chocolate and each other at our pizza store each Valentine's week.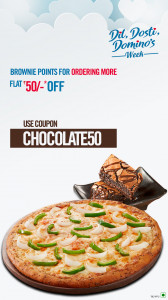 4.Teddy Day – 10th Feb 2020, Monday
Give this huggable toy and companion to the one whom you always wish to accompany. Whenever they see these adorable Valentine's day gifts, they will be reminded of you.
You can accompany it with their favorite Dominos pizza. Just so they feel full, happy and more in love than ever.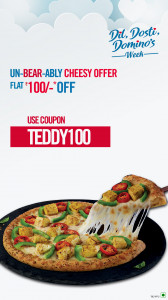 5.Promise Day – 11th Feb 2020, Tuesday
Every relationship is based on some sweet words, unbreakable trust, and some promises. Think of it as a new relationship resolution, if you must but give your relations a breather with a new promise and follow it through the entire year.
It can be as profound as – "I will always be there for you." Or it can be as simple as a husband promising to treat his wife every Friday to a delicious large cheesy pizza after searching for restaurants near me on Google.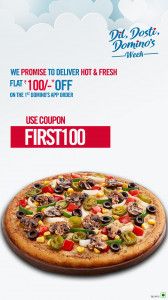 6.Hug Day – 12th Feb 2020, Wednesday
Nothing is needed here. Just two arms and a lot of love. Hug it out with your family, friends and your love. You are guaranteed to feel a lot happier after just a single hug.
7.Kiss Day – 13th Feb 2020, Thursday
Exchange feelings and let there be love.
Valentine's Day – 14th Feb 2020, Friday
The most important day of love arrives – Valentine's Day. Get innovative and celebrate this lover's day the best way possible. Do a quick search for the "food places near me", plan a little outing, spend some quality 'us' time, and seal your love with a pizza.
What say?
Top Cities –
Bangalore | Ahmedabad | Chandigarh | Greater-Noida | Hyderabad | Chennai | Amritsar | Agra | Kochi | Kolkata | Lucknow | Mohali | Mysore | Mumbai | Navi-Mumbai | New-Delhi | Noida | Pune | Thane | Patna | Vishakhapatnam | Vellore | Surat | Bhubaneswar | Coimbatore | Faridabad | Ghaziabad | Jaipur | Nagpur | Modinagar | Nagaon | Dankuni | Motihari | Batala | Palwal | Hapur | Abohar | Dadra-And-Nagar-Haveli | Kottayam | Rajnandgaon | Khanna | Bhopal | Sangli | Aligarh | Deoghar | Gajraula | Agartala | Calicut | Tirunelvelli | Darjeeling | Haldwani | Itanagar | Jaigaon | Junagadh | Nawanshahr | Rajpura | Thanjavur | Tirupur | Bharuch | Erode | Jabalpur | Kadapa | Miraj | Nainital | Palakkad |