Pizza lovers all around the world unite! The holy grail in the world of gastronomy, what we all seek the most, is the best pizza in the world. A slice of pizza with just the right amount of toppings, cheese, a crust that's perfectly crunchy and sauce that satiates your tastebuds.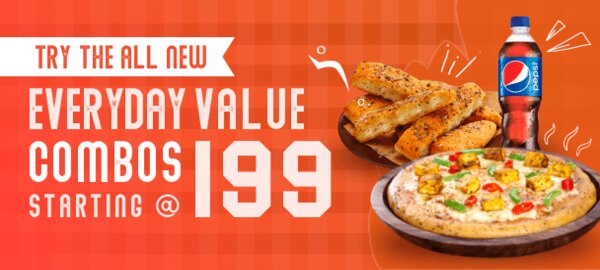 We believe Pizza making is an art and Domino's has an array of incredibly talented artists and although we understand that perfection evades us all we believe that we are very close in our journey to mastering the craft of pizza making. With exotic ingredients sourced from various parts of the world while retaining the authentic Italian flavour, our pizzas are specially curated to appeal to the Indian audience.
Happiness comes in all sizes. A regular pizza size serves one while a medium pizza size can serve up to two people. On the other hand, a large pizza size can feed a family of four.
What is it exactly that makes Domino's Pizzas so yummy? The answer is quite simple actually. What we have is not the best pizza but an assortment of pizzas that are specifically curated for a wide audience in India. There's something out there for everyone at Domino's. It is comforting to know that no matter who you are or where you are, the best pizza toppings are always waiting for you at Domino's.
The magic starts at the base level with bases that are crisp and filling, and a tomato sauce that's so integral to the taste of pizza as it allows for a burst of acidity and sweetness to amplify the sauce at the pizza's base teamed up with a generous layer of cheese that melts right in your mouth. Next up, you can choose from the widest array of toppings depending upon your requirements.
Both vegetarians and non-vegetarians alike find solace in Domino's pizzas. Baked to perfection, our pizzas topped with the choicest ingredients are what make it the haven for pizza lovers. Next time you're craving something delicious, why not have a delicious pizza from you know where and when you're getting two regular pizzas at ₹ 99 each, you don't have to think twice. Order Now!!
You can also order your delicious pizza by calling at Domino's customer care number: 1860-210-0000
Top Cities –
Bangalore | Ahmedabad | Chandigarh | Greater-Noida | Hyderabad | Chennai | Amritsar | Agra | Kochi | Kolkata | Lucknow | Mohali | Mysore | Mumbai | Navi-Mumbai | New-Delhi | Noida | Pune | Thane | Patna | Vishakhapatnam | Vellore | Surat | Bhubaneswar | Coimbatore | Faridabad | Ghaziabad | Jaipur | Nagpur | Modinagar | Nagaon | Dankuni | Motihari | Batala | Palwal | Hapur | Abohar | Dadra-And-Nagar-Haveli | Kottayam | Rajnandgaon | Khanna | Bhopal | Sangli | Aligarh | Deoghar | Gajraula | Agartala | Calicut | Tirunelvelli | Darjeeling | Haldwani | Itanagar | Jaigaon | Junagadh | Nawanshahr | Rajpura | Thanjavur | Tirupur | Bharuch | Erode | Jabalpur | Kadapa | Miraj | Nainital | Palakkad |