Gift delicious moments with Domino's Pizza gifting solutions
E-Gift Voucher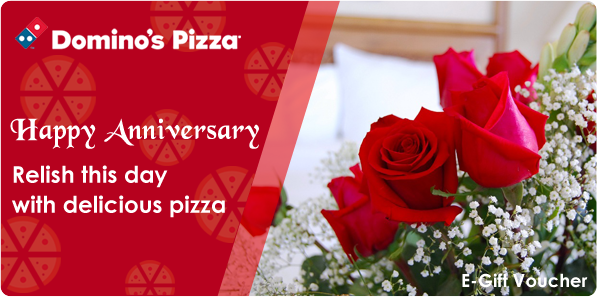 Confused thinking about what to gift your family & friends on every festival? Be it any occasion, bring a smile on everyone's face by gifting them a Domino's Pizza E-Gift Voucher. This can be redeemed on the Mobile Site or the Mobile App.
Gift Card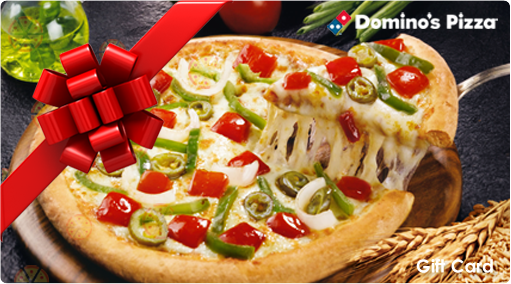 Discover the joy of gifting with Domino's Pizza Gift Card. Gift Cards are redeemable at all the Domino's Pizza outlets, Mobile Site & Mobile App & can be easily reloaded whenever anyone is hungry.
Domino's Pizza gifting for every occasion
View All
How to Redeem

Place Order
To redeem an e-Voucher, you need to be on your mobile. Visit m.dominos.co.in or download our latest Android or iOS App. Add Products to your Cart and Proceed to Pay

Payment Method
Proceed to payment, select Voucher/Gift Card option, and click on Redeem

Voucher/Card Details
Enter your Voucher/Gift Card number & PIN/OTP

Make Payment
Click on 'Make Payment' and pay the balance (if any) using cash.

Place Order
Visit any Domino's Pizza outlet & place your order

Payment Method
Mention the mode of payment to the order taker before confirmation of the order

Voucher/Card Details
Share Gift Card number & PIN/OTP

Make Payment
Pay the balance amount (if any) using other payment modes.
Pizza parties are most loved by people of all ages. The one food that comes into the mind of any person when asked what they want to eat is Pizza! Make your pizza parties more fun with Domino's pizza gift vouchers.
Domino's Gift Card – Gift Delicious Moments
A universally loved gift would be something that can be enjoyed by every person. Often, food items, especially ones that are known to be tasty and scrumptious provide comfort and happiness. How great would it be if your gift cards could be put to such great use by the people in your life? Pizza restaurants nearby would be some of the most ideal places to purchase these vouchers from. Each bite into the soft crust of a Domino's pizza with the sound of the crunching of the vegetables would be a delight in itself. The pizza gift vouchers online would give you this and a lot more delicacies to avail yourself of from this yummy pizza brand. All of this from the comfort of your home as you can enjoy the quick food delivery services. Do not compromise on taste and authenticity – all this at lower prices with the vouchers!
What makes Domino's Pizza Gift Card the Best Gift Card?
You would want your gifts to be meaningful and personalized. Domino's gift vouchers give you the liberty to do just that! You can pick, choose, and customize your pizza options as you prepare to place your order by using the pizza gift cards. The best part is that the person you are gifting it to would be able to do the same – making this gift even more meaningful for them. How often does one get a choice to choose their gifts for themselves? Browse through the extensive Domino's menu and choose to devour any of the delicacies that you prefer. The cheesilicioius pizzas, the gooey desserts, the perfect side dishes, food near me are now made a hundred times better if you opt to order from your favorite brand. Do not wait any longer. Enjoy pizzas, pasta, and much more from this amazing place, and keep coming back for more.
How Does Domino's Gift Card Work?
Want to enjoy a pizza party with all your friends and family? There would be no better occasion than this to use the gift cards provided by Domino's! The method to redeem these cards and avail of the offers has been made easy and everything can now be done online. A few easy steps that you can use to redeem your Domino's gift cards would be:
Download the mobile app on your phone
Choose the food items you want to order
Proceed to the payment tab and select the voucher or gift card option
Click on 'redeem' and enter the details of the voucher or gift card. You will also have to enter a PIN or OTP
Lastly, click on 'make payment' and pay any balance amount, if needed.
These cards also provide an option to choose from a variety of everyday value offer options!
Best Gift Cards or Gift Vouchers to Buy for different occasions
For special occasions, it matters a lot when people remember and acknowledge the days. A cherry on top would be to receive gift cards from places you love the most.
Birthday Gift Cards
Enjoy your birthday party by treating yourself and everyone else to the best food out there. Birthday gift cards will be your ally at your party as you can choose anything on the menu and cater to different taste buds.
Anniversary gift cards
Planning a date night on your anniversary? Use the anniversary gift cards at Domino's and give your partner what they deserve. Enjoy an assortment of veg pizza options and top the date off with the most-loved choco lava cake.
Festive occasions gift cards
On festive occasions, you would want to give yourself and your kitchen a rest. Using the festive occasions gift cards, you would easily be able to achieve both these targets and enjoy the event without having to worry about what to cook!
Important days gift cards
There are not many events in life that one celebrates. Days like the first day of a job, first salary, first date, the announcement of a promotion, etc are days to commemorate. The important day's gift cards will be a good way to enjoy these days by adding another special element to them. Enjoy veg or non veg pizza depending on your preference and mood.
Thank You gift cards
Would there be any better way to express gratitude than by delivery of an assortment of pizzas? Domino's thank you gift card is one of the most precious gifts one can give or receive.
Grab Exciting offers on Domino's Pizza Gift cards
Pizza gift cards are always welcome no matter the age of the person. Especially for pizza fanatics, Domino's coupons provide a luxury like no other. To be able to enjoy your favorite meal often is a dream come true, make it happen using the gift vouchers online and avail the offers as and when needed. Ordering food has now been made easy with the online options, the E gift voucher only helps this cause. Enjoy unlimited delicious food with the click of a button at the most affordable rates with Domino's gift vouchers. Enjoy each bite and uplift your mood instantly.
For any bulk enquiry, write to us at