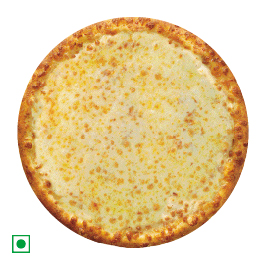 A hugely popular margherita, with a deliciously tangy single cheese topping
Cheese
Choice of Crust
Classic Hand Tossed

Cheese Burst

New Hand Tossed
Wheat Thin Crust

Fresh Pan Pizza
Size of Crust
regular | medium | large
Domino's Pizza Price List
A hugely popular margherita, with a deliciously tangy single cheese topping
Cheese
Choice of Crust
Classic Hand Tossed

Cheese Burst

New Hand Tossed
Wheat Thin Crust

Fresh Pan Pizza
Size of Crust
regular | medium | large
Domino's Pizza Price List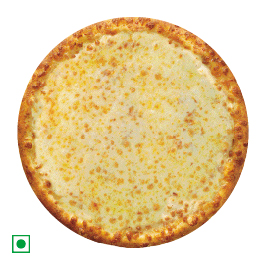 Order Margherita pizza online from Dominos
If you are a fan of veg pizzas, you know the best one is Margherita pizza. Domino's Margherita pizza is the epitome of delicious and delectable. Our Margherita pizza is the perfect combination of everything that makes a pizza desirable and you can get it at Domino's restaurant near you. If you are not in the mood to step out, then you can order Margherita pizza online and enjoy the goodness of this balanced pizza at home, It is made up of cheese, flavourful pizza sauce, and warm dough. Cheese Margherita pizza is an example of Italian delights you can get at Domino's and enjoy with your family. Domino's Margherita pizza price is surprising as it provides a yummy meal at a great price and the value for money is one of the reasons you will keep frequenting Domino's. If you are a fan of cheese and like your food to be as cheesy as it can get, you can opt for Cheese Margherita pizza. This pizza is truly heaven since there is cheese on the pizza as well as in the folds of pizza. You can say this hits your cheesy sweet spot.
Order online Margherita pizza to save your hunger
If you buy Margherita pizza every time you go to Domino's, have you thought of switching it up? You can try various combinations to make your meal more interesting. If you are a fan of non veg pizzas and like Margherita pizza, you can choose to put add-ons and make your pizza better. Another way you can enjoy your pizza is to get dips for pizza and make your pizza's every bite interesting. You can order double cheese Margherita pizza or cheese burst Margherita pizza to make your pizza practically drip with cheese. The moment you take a bite of the warm cheese, you can feel the liquid goodness flood your mouth. One bite of the Domino's Margherita pizza will transport you to the region of Italy. The delicate flavours of the sauce and the crust with the cheese on top create magic that is sure to make your day. When you order Margherita pizza online, you can see that it is delivered with all the essence of the pizza intact. When you order Margherita pizza near you, it comes with the warmth of the crust and the freshly baked pizza smell to your doorstep. The quality of the pizza does not waver at all.
Margherita pizza types available at Dominos
The selection of crusts is one of the reasons why Domino's is a favourite. A Margherita pizza tastes best when it's on a thin crust. Thin crust Margherita pizza is one of the most popular pizzas around the world.
Small Margherita Pizza - Serves 1 to 2 People
A small Margherita pizza can serve as a snack at any time during the day! You need not worry about tea-time snacks and if the mood strikes, breakfast too! If you are looking for a meal for 2 then a medium Margherita pizza is the perfect way to get a party started. The way to a full and satisfied stomach is to tuck into a pizza and accompany it with a great dessert too!
Medium Margherita Pizza - Serves 2 to 3 People
If you want to grab a bite with your friends at home, you can get a large Margherita pizza and set up a cozy evening at home. You can get delicious appetizers and cold drinks and you can Margherita pizza order onlineto be delivered to your doorstep. The perfect way of ending the evening with a chocolatey and gooey dessert.
Large Margherita Pizza - Serves 3 to 4 People
If you are having a party, then a Margherita pizza for dinner may not suffice. You can make it a full meal by adding Garlic bread to the mix. The pizza menu at Domino's is versatile and can house the likes and dislikes of everyone around you. Starting from the many options you can pick from whether you prefer veg or non veg pizza, you are sure to be spoilt for choice. The unending list of delicacies at Domino's is sure to make your mouth water. Domino's ensures even if you order pizza online, you are privy to a lot of offers that make your pizza worth its dough! The robust delivery service ensures you can order Margherita pizza for lunch from your office too.
Domino's Margherita pizza price is just as good as the pizza
The Domino's Margherita pizza price is one of the reasons why Domino's is so popular. The Margherita cheese burst pizza Domino's price is competitive and the experience of visiting cheese heaven is truly priceless. When you look up the best pizza near me, you cannot miss Domino's and the fact that they have a unique collection of fast foods. Domino's medium Margherita pizza price makes for a reasonable meal and Domino's Margherita pizza regular price is perfect for a solo night out or night in. It is one of the best places for food delivery near me.