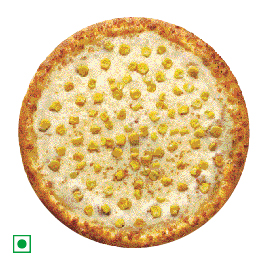 Cheese I Golden Corn | Cheese n Corn Pizza
Choice of Crust
Classic Hand Tossed

Cheese Burst

New Hand Tossed
Wheat Thin Crust

Fresh Pan Pizza
Size of Crust
regular | medium | large
Domino's Pizza Price List
Cheese I Golden Corn | Cheese n Corn Pizza
Choice of Crust
Classic Hand Tossed

Cheese Burst

New Hand Tossed
Wheat Thin Crust

Fresh Pan Pizza
Size of Crust
regular | medium | large
Domino's Pizza Price List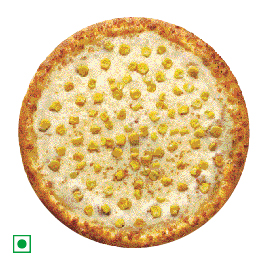 Order Cheese And Corn Pizza Online From Domino's
Domino's has a huge range of veg pizzas out of which one of the most loved ones is cheese and corn pizza. It is the perfect choice for people who don't like veggies on their pizza and don't eat meat. The hot gooey cheese combined with the juicy fresh sweet corn gives the most perfect flavor profile you could hope for. Order cheese and corn pizza online next time you're wondering what to eat and send your taste buds to heaven! The Domino's cheese and corn pizza prices are so reasonable that even if you're short on cash you can easily order it and have a filling meal. Make it a whole meal by adding a paneer makhani pizza to the pizza mania mix and you can enjoy a fun evening filled with delicious food, with your friends or date! If you're a bigger bunch of people, add in a few side dishes and your choice of beverage and voila, you will have a mouth-watering combination of flavors and a meal you'll never forget. Ordering from domino's is quite simple and the delivery is super fast, so next time you're in a fix about what to eat, order from domino's.
Explore Our Cheese And Corn Pizza Menu at Dominos
The cheese and corn pizza Domino's makes is extremely tasty and super cheap and if you order from our app or website, you'll get some amazing pizza coupons which you can redeem with your next order and you will get one of the best deals possible. The Domino's menu is so full of variety that you will find something that you love eating. Another great thing about domino's is that whatever you decide to order, it can be customized and you will have your pizza just like you like it. Domino's also has a great range of side dishes so you can add a burger pizza to your order and satisfy all your junk food cravings in one go! Domino's also has various base sizes, which makes it the perfect choice whether it is only for one person or many people. The cheese and corn pizza comes in 3 sizes so you can order according to just how hungry you are.
Small Cheese N Corn Pizza
The small cheese and corn pizza prices are reasonable and the quantity is just perfect for one person to have a meal by themselves. You can easily add a side dish to your order and have a full stomach.
Medium Cheese N Corn Pizza
If you're more than just one person or you have a special friend over, you should order the medium cheese and corn pizza size and enjoy the mouth-watering flavors. This pizza size easily feeds more than one person so you don't have to worry about not having enough food!
Large Cheese N Corn Pizza
If you have people at your house for a party or are simply hanging out with friends, order the large cheese and corn pizza. Trust us, you'll be known among your friends as the perfect party host!
Order Double Cheese And Corn Pizza From Domino's To Satisfy Your Cravings
Domino's cheese and corn pizza prices are affordable for almost everyone and you can order it without worrying about month-end or a cash crunch. If you check out the small cheese and corn pizza price, you'll be tempted to add a few side dishes and still not burn a hole in your pocket! When you search for restaurants nearby, you can order from Domino's as our outlets are present in almost all cities. We have a huge range of pizzas and side dishes and the pizza mania is especially a hit among youngsters as it gives a lot of variety without compromising on the taste and is priced well. All you have to do is look for the nearest domino's outlet and go to the app or the website to place an order and your meal will be delivered to you in 30 mins, while maintaining hygiene and delivery standards!
Easy Ordering And Easy Delivery
You can order cheese and corn pizza from Domino's the next time you're craving Italian food, just search for food near me and you'll be directed to the closest outlet of Domino's. The cheese and corn pizza near you will send your taste buds into heaven and leave you wanting more. You can download the free app or log on to the website and search pizza near me and select the outlet closest to your place and your cheese and corn pizza delivery will be on time so you can have a hot meal. Next time you get confused as to what to order, remember that Domino's delivers taste and quality at the cheapest rates possible, to make sure the customers get what they want. With a few clicks, you can have an amazing dinner so sit back and relax, and place your order now!