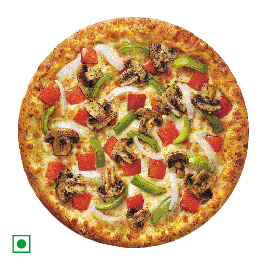 A pizza that goes ballistic on veggies! Check out this mouth watering overload of crunchy, crisp capsicum, succulent mushrooms and fresh tomatoes
Choice of Crust
Classic Hand Tossed

Cheese Burst

New Hand Tossed
Wheat Thin Crust

Fresh Pan Pizza
Size of Crust
regular | medium | large
Domino's Pizza Price List
A pizza that goes ballistic on veggies! Check out this mouth watering overload of crunchy, crisp capsicum, succulent mushrooms and fresh tomatoes
Choice of Crust
Classic Hand Tossed

Cheese Burst

New Hand Tossed
Wheat Thin Crust

Fresh Pan Pizza
Size of Crust
regular | medium | large
Domino's Pizza Price List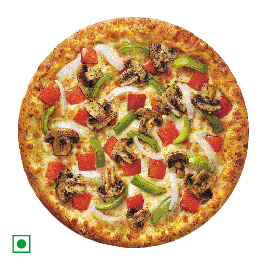 Treat yourself Domino's Pizza at anytime of the day
Pizza is one such food item that has no haters, and rightly so. Just a bite into it can make you happy. And if the pizza is from Domino's, you're in for a delicious experience. Of all the veg pizzas prepared at Domino's, our farmhouse pizza has earned millions of hearts. You have to try it if you haven't already.
Order FarmHouse Pizza Online from Domino's
Nothing can be better than getting to start or end the day with our delicious, freshly-baked Domino's farmhouse pizza. If you're tired after a long working day and want to treat yourself for making it through a tough day, pick up your phone, open the Domino's app, and place an order for a medium or large-size farmhouse pizza. The farmhouse pizza price is pretty reasonable, considering the amount of toppings and quality of materials used to bake this perfectly scrumptious pizza. The Domino's mobile app is super easy to use, so you won't ever encounter a problem while placing an online order.
The best part of our mobile app is you get to track real-time order status. But if you're not comfortable using the app, you can use our website to place an online order for a farmhouse or any other veg pizza of your choice. Our delivery executives ensure quick delivery of all online orders, so customers can enjoy their pizzas hot and fresh. Besides getting your order delivered at home, you can take advantage of the take away option from any Domino's restaurant near you. All you have to do is quickly place an online order using the takeaway section. Once you've selected the takeaway option on our website, order farmhouse pizza online.
Farmhouse Pizza Comes in Different Sizes
Because, why not? We all know there is no one-size-fits-all rule, and the same applies on pizzas. Just because one person feels a small Domino's farmhouse pizza is enough to satiate his hunger, doesn't mean another person will also feel the same. S/he may need a bigger size pizza to curb their hunger and pizza cravings. Hence to satisfy every pizza lover's hunger, Domino's offers its pizza in three different sizes. Take a look at each option shared below.
Regular farmhouse Pizza
When you're ordering a farmhouse pizza online or at the outlet's counter, you'll get an option to choose the size of your pizza. If you're not really hungry and want to satisfy pizza cravings, a regular farmhouse pizza would be enough for you. But if you want to diversify your order, you can consider pairing your farmhouse pizza order with garlic bread. This side dish is lip-smacking delicious, and you're sure to love every bite of it.
Medium Farmhouse Pizza
Want to replace your usual lunch or dinner with something delicious and filling? If yes, you should order a medium farmhouse pizza. The medium pizza comes with six big pizza slices, enough for one person or even two. Though the usual farmhouse tastes delicious, it tastes exceptionally well when loaded with extra cheese. So if you plan to have a satisfying dinner, evening snack, or lunch, get yourself a medium farmhouse pizza with cheese burst.
Large farmhouse Pizza
Throwing a party for your loved ones? Don't forget to order a large farmhouse pizza for them. Parties and treats are always special, and they can never be complete without good food. If you just want to enjoy and spend quality time with your loved ones, cut down the cooking time by ordering pizzas from Domino's. In addition to a large farmhouse pizza, you can also order other pizzas from the Domino's pizza menu.
You can never go wrong with pizzas, so head to our mobile app right away and order farmhouse pizza of your preferred size. You can also check the pizza menu to look for more pizza options before ordering.
Farm to Fork right on your plate:Try Domino's farmhouse Pizza
Domino's farmhouse pizza has become an absolute favorite of our customers since its launch. Made using fresh pizza dough, chef-special secret sauce, herbs, and fresh toppings, this pizza is a delight to have. The farmhouse pizza Domino's price varies depending on the size of pizza you choose. Though the standard farmhouse pizza tastes exceptionally delicious, the bar is raised when it is upgraded to a cheese burst. The farmhouse cheese burst pizza price is higher than the standard option because you get oodles of extra liquid cheese with the cheese burst upgrade.
If you're short on budget but craving a pizza, regular farmhouse pizza Domino's price will easily fit your bill. You can also add a pasta or burger pizza to the order, if you're looking for a variety of flavors. When you buy a small pizza over a medium or large pizza, you automatically make room for adding more side dishes and desserts. As the Domino's farmhouse small pizza price is less, you can easily buy more items within the same restricted budget. If you still want to buy the large size, but the Domino's large farmhouse pizza price seems high, you can use the latest coupons to claim a discount. You can also enjoy a discount on the total bill value if you pair your pizza with a side dish option like chicken wings.
Easy Ordering & Easy Delivery
Do you know what exactly is more satisfying than having a scrumptious Domino's farmhouse pizza? It is the ease of ordering your favorite pizza online. Luckily, ordering farmhouse pizza online is super easy and quick. You can do it via our website or official mobile app. If you're someone who keeps ordering pizzas, we'd suggest downloading our Domino's mobile app, creating your account, and filling in the necessary details. Doing so will ensure you're able to order your favorite Domino's pizzas using a few clicks. You can also trace real-time order status once you order farmhouse pizza on the app.
Alternatively, you can use our website to buy farmhouse pizza without any hassle or fuss. Both are great and hassle-free ways to order pizza online. And we haven't disclosed the best part yet. When you place an online order, we make sure you get the farmhouse pizza delivery within 30 minutes. This super quick delivery ensures all our customers receive their ordered pizza hot and fresh. You can also order a non-veg pizza of your choice in a similar way.