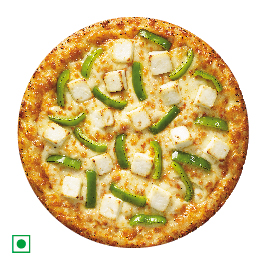 Paneer and Capsicum on Makhani Sauce
Choice of Crust
Classic Hand Tossed

Cheese Burst

New Hand Tossed
Wheat Thin Crust

Fresh Pan Pizza
Size of Crust
regular | medium | large
Domino's Pizza Price List
Paneer and Capsicum on Makhani Sauce
Choice of Crust
Classic Hand Tossed

Cheese Burst

New Hand Tossed
Wheat Thin Crust

Fresh Pan Pizza
Size of Crust
regular | medium | large
Domino's Pizza Price List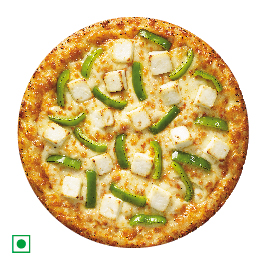 Order Paneer Makhani Pizza Online From Dominos
The paneer makhani pizza from Domino's is the perfect veg pizza for desi pizza lovers. The delectable juicy pieces of paneer marinated in the spicy sauce, with the freshest capsicum toppings make this pizza a major hit among people all over India. The next time you're in the mood for a funky fusion of Italian and Indian, opt for the paneer makhani pizza and order online. This combination of the two favorite flavors of Indians is enough to satisfy all your desi and Italian cravings in the best way possible. The domino's paneer makhani pizza price is so reasonable that if you're having a party or cheat day, you won't have to spend too much to have a good time. The flavors are especially perfect for a friendly get-together or a first date as they are universal and liked by everyone. All you have to do is log on to domino's app and look for food near me and you will be presented with various mouth-watering options of pizzas. Throw in a few tasty side dishes as well and your meal for the evening will be something to remember for a long long time.
Order Domino's Paneer Makhani Pizza In Your Favorite Size
The Pizza Menu at domino's is full of variety and you will find something according to your tastes and preferences. The best part is, whatever you decide to order, can easily be customized and you will have your perfect pizza at your doorstep in 30 mins! Domino's has a great range when it comes to toppings and choice of crust, as well as delicious side dishes like garlic bread, which has quite a few variations too. You can go for stuffed or plain garlic bread along with your pizza to make your order a little more fun. Domino's also has various base sizes, making it the perfect choice for a single person or ten. The paneer makhani pizza comes in 3 sizes and here are their details.
Paneer Makhani Regular Pizza
The perfect choice for a single person, the paneer makhani pizza regular size serves enough for a meal by yourself. Add in some coke and a side dish and you are sorted for the evening.
Paneer Makhani Medium Pizza
If you're more than a party of one, just go for the paneer makhani pizza medium size and enjoy the tasty flavors and have a meal to remember! This serving size easily feeds two people.
Paneer Makhani Large Pizza
If you have guests over or are chilling with friends, order the paneer makhani pizza large size and blow the minds of the people you're entertaining. Domino's knows what their customers want and gives them just that!
Taste The Best Paneer Makhani Pizza From Domino's To Satisfy Your Cravings
Domino's paneer makhani pizza price is so affordable that even if it's the end of the month and you have a cash crunch you can easily order it without spending much. In fact, Domino's medium paneer makhani pizza price leaves space in your budget to order a few side dishes like the burger pizza or the creamy pasta and will be a great dinner for two people at the cheapest rates possible. If you are a fan of chicken-based dishes, don't worry, domino's has your back. They have a huge range of pizzas and side dishes that have the juiciest chicken which will be perfect if you are a non-vegetarian. Their fresh chicken is tender in the mouth and the flavor packs a punch, leaving you wanting more. They also have a huge range of chicken toppings that you can check out while placing your order.
Easy Ordering And Easy Delivery
You can buy paneer makhani pizza from domino's easily by placing an order through their app or website. The paneer makhani pizza delivery can be a part of pizza mania with similar options like peppy paneer and margherita pizza in the mix! The Domino's paneer makhani pizza near you is just a few clicks away and you can get your order with fast, hygienic and timely delivery. Domino's has always been on top of the food delivery game and now with their easy to navigate website, you'll never get frustrated deciding what you have to order the next time you're 'hangry'. The app is free and easy to use with a variety of offers available, and the delivery time is 30 mins making sure your next meal will reach you hot and fresh. Another great thing about domino's is that it's open for late-night delivery, which will satisfy any untimely hunger pangs!