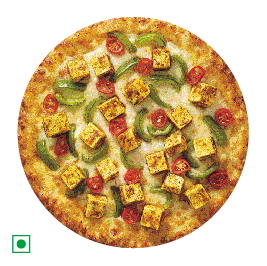 Chunky paneer with crisp capsicum and spicy red pepper - quite a mouthful!
Choice of Crust
Classic Hand Tossed

Cheese Burst

New Hand Tossed
Wheat Thin Crust

Fresh Pan Pizza
Size of Crust
regular | medium | large
Domino's Pizza Price List
Chunky paneer with crisp capsicum and spicy red pepper - quite a mouthful!
Choice of Crust
Classic Hand Tossed

Cheese Burst

New Hand Tossed
Wheat Thin Crust

Fresh Pan Pizza
Size of Crust
regular | medium | large
Domino's Pizza Price List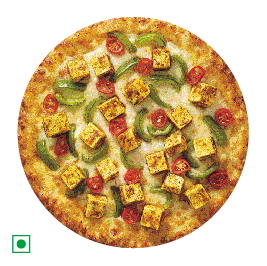 Pizza and Paneer are considered to be the ultimate guide to a vegetarian's happiness and are a combination that is beloved by most people in India. Imagine a blend of the two: Paneer on Pizza! Only the sound of it is enough to cause an immediate mouth-watering reaction.
Order Peppy Paneer Pizza Online from Domino's
The food at any Domino's restaurant near me is scrumptious, but the veg pizza collection over there is ooh to die for! The crunchiness of the fresh vegetables along with the cheesiness in each slice will leave your heart full. Now add paneer to the mix – the Dominos peppy paneer pizza is the perfect combination for vegetarians. If you have a party at home, or you want to relax alone, or you are simply not in the mood to cook, you can order accordingly – the peppy paneer pizza regular size near you should work best and you can change the combination of toppings every time you order. Have budget-friendly food at parties as the dominos coupons will steal your hearts.
Want to be able to satisfy your hunger pangs immediately? Ditch the long lines and order peppy paneer pizza online from nearest Dominos and have it delivered right to your doorsteps and that too, within 30 minutes! Dominos knows what their customers want and they give you exactly what you need. The peppy paneer cheese burst pizza with the goodness of the extra cheese, the softness of the paneer, and the perfectly made crust will only leave you coming back for more.
Your Personal Paradise is here with Dominos Peppy Paneer Pizza
The Pizza menu with Domino's is so vast that it leaves you scrambling with options to choose from. Baking the perfect pizza is an art that is mastered by Dominos peppy paneer pizza, and you are bound to agree to this once you have a taste!
When it comes to food, the needs of the customers should be looked after. Therefore, the different sizes of pizza and the options offered to you by your favorite brand will always have you covered.
Peppy Paneer Regular Pizza
The peppy paneer regular pizza can be opted for if you want to have a quiet and relaxed night without the hassle of cooking food. Enjoy the peppy paneer pizza regular along with watching your favorite movie. Do not worry about cleaning up afterward as the boxes are sturdy enough for you to devour your meal in. Add the desired amount of oregano and chili flakes to your taste.
Peppy Paneer Medium Pizza
Perfect for a date night, peppy paneer medium pizza drom the nearest Dominos Store will surely leave your date impressed. The taste, the freshness, the aroma, and the toppings are all desired by most people. The peppy paneer pizza medium price does not hurt the pockets and along with a couple of beverages in the candlelight – you can effectively create the setting for an ideal date.
Peppy Paneer Large Pizza
Now, speaking of parties and larger gatherings, the pizza menucan be looked over for an assortment of options in pizzas and side dishes. Ordering the garlic bread can never go wrong as it disappears within seconds. For many people, ordering a peppy paneer pizza large size is a great option. People, even with diverse taste buds, can never say no to paneer. The large peppy paneer pizza should suffice the needs of a party, and you can always choose to order a couple of other options as well
Taste the best Peppy Paneer Pizza from Domino's to satisfy your cravings
Hunger pangs can strike at any moment without any notice – what do you do if this happens to you? Check out the dominos peppy paneer pizza price and order! With several different options for side dishes like – Pasta and a delightful new addition that instantly appeals to everyone – burger pizza, you will never run out of things to try. Browse through the prices and check out if you can add a chicken topping to it. Allow yourself to enjoy the best of both worlds!
One of the most appealing parts of this popular brand in India offers to their customers – Dominos peppy paneer medium price and the Dominos peppy paneer regular price will leave you happy and will satisfy your hunger cravings without feeling guilty. Enjoy the fresh pizzas, amazing options in side dishes, and cool and refreshing beverages with Dominos.
Easy Ordering and Easy Delivery
Where else can you find a brand so wholesome that offers you not only delicious options but also takes care of other needs like fast delivery, lower prices, care, safety, etc? The Dominos peppy paneer pizza has soon topped the charts as a must-try with this brand. It is up to you to completely decide if you want to make a peppy paneer pizza online order nearby for you to be able to enjoy it within the comfort of your homes, or if you want to buy pizza at the closest outlet. All you would have to do is search for Pizza near me and you will find a plethora of options and outlets to choose from.
Participate freely in the pizza mania deals and offers provided by Dominos for fun meals and exciting times. Turn to this brand at any time and they will have you covered.