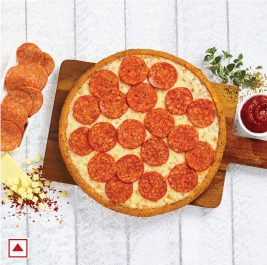 A classic American taste! Relish the delectable flavor of Chicken Pepperoni, topped with extra cheese
Choice of Crust
Wheat Thin Crust

Fresh Pan Pizza
Size of Crust
regular | medium | large
Domino's Pizza Price List
A classic American taste! Relish the delectable flavor of Chicken Pepperoni, topped with extra cheese
Choice of Crust
Wheat Thin Crust

Fresh Pan Pizza
Size of Crust
regular | medium | large
Domino's Pizza Price List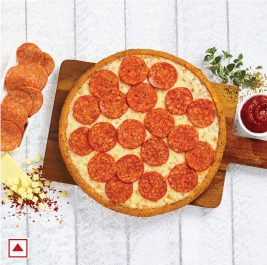 Hungry and craving pizzas? Landed in the correct place! Domino's offers flavorsome pizzas that would send your taste buds to heaven. Having an American taste, chicken pepperoni pizza is the best choice for all chicken lovers! Here is all that you need to know about this delicacy
Order Chicken Pepperoni Pizza from Dominos
One of the must-try on domino's menu, your pizza cravings are sure to get satisfied if you order a chicken pepperoni pizza. Topped with chicken pepperoni, the best version of this dish is only to be found in Domino's because all other restaurants nearby surely couldn't match the flavors of this pizza. Covered with cheese, this mouth-watering dish is super tasty and filling. If chicken is something you never miss eating then it is highly recommended for you to order Domino's chicken pepperoni pizza online or go for a dine-in at the nearest outlet.
If you are ordering online, be rest assured that the food delivery of Domino's is quick and never disappoints you. We hate it when our customers starve! And when your order has something as delicious as chicken pepperoni then how can the cravings be long-lasted? This dish is sure to satisfy you and make you re-order it as one can never forget the experience of having appetizing chicken pepperoni pizza.
Chicken Pepperoni Pizza is available at Dominos
If you are feeling too lazy to go out but chicken is what your taste buds are screaming for then you should order the chicken pepperoni pizza from the broad Domino's menu. The outlet near you would make sure to deliver it to your doorsteps within 30 minutes of order placement. Chicken is the major ingredient of this dish making it filling for your stomach.
Available in different pizza crusts, you can enjoy the pure flavor of chicken covered with a layer of cheese only by ordering 'chicken pepperoni pizza from domino's.' The menu that domino's offers is extensively filled with a variety of pizzas be it non-veg or veg. Especially the non-veg menu created for the meat lovers out there has flavorsome pizzas like the one we are discussing and making our taste buds crave. Sitting and chilling at home? Pizza is what you are missing to complete the vibe. Why miss on when you have the best food near you at affordable prices.
Chicken pepperoni pizza has to be your choice if you are a chicken lover yearning for pizza. The pure flavor of chicken on top of the crisp pizza taste would make you fall in love with the dish.
Order Delicious Chicken Pepperoni Pizza from Dominos to satisfy your cravings
It is truly said that a happy belly is a happy life. Satisfying your food craving is as important as satisfying your other essential needs. To fulfill your delicious chicken pepperoni pizza craving, domino's is here to serve you. If you want to customize your pizzas, we provide you the option of choosing different pizza crusts and numerous veg and non-veg toppings to make your pizza further delightful.
Chicken pepperoni pizza Domino's can be easily customized as the main ingredient in it is pure chicken and adding toppings to it would make it super mouth-watering. If you are also looking for some other food variety, you can try the latest Burger pizza. For convenience, you can order food online and avail of discounts. To wrap your order, you can add affordable mini pizzas that are available under pizza mania along with some desserts and beverages.
What makes Dominos Chicken Pepperoni Pizza special?
You might be wondering what goes into chicken pepperoni pizza that makes it appear so delicious? The main chicken pepperoni pizza ingredients are slices of chicken pepperoni perfectly blended with loads of cheese giving the pizza a juicy and tender taste. Domino's chicken pepperoni pizza can be easily customized so that you can add further ingredients along with pepperoni like chicken sausages, pepper barbecue chicken, etc. and other veg toppings like onion capsicum can also be added.
Apart from the non-veg pizza options, Domino's also offers a huge variety of veg pizza options that would taste equally delicious. The ingredients of both of these varieties can be customized so that you can savor the taste of veggies over your non-veg pizza too. The combination of these ingredients is what makes Domino's pizza so special and mouth-watering.
Grab Exciting Offers on Dominos Chicken Pepperoni Pizza
If you are browsing for some of the most affordable pizzas on the menu then cheese n corn pizza, chicken pepperoni pizza, etc., are your go-to. Eating at Domino's not only makes your belly happy but it is also pocket-friendly. Ordering Domino's chicken pepperoni pizza offers some exciting deals that would save you from big expenditure and surely this pizza will satisfy your hungry stomach.
Further, if you apply Domino's coupons on orders then you might avail yourself heavy discounts to cut down your order total. Added to that if you want to share this happiness with your friends you can give them an E-gift voucher. Pizzas at Domino's always come with good deals.