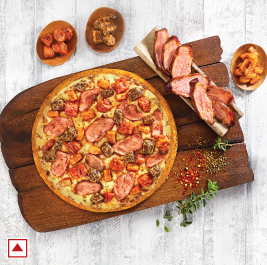 Treat your taste buds with Double Pepper Barbecue Chicken, Peri-Peri Chicken, Chicken Tikka & Grilled Chicken Rashers
Choice of Crust
Classic Hand Tossed

Cheese Burst

New Hand Tossed
Wheat Thin Crust

Fresh Pan Pizza
Size of Crust
regular | medium | large
Domino's Pizza Price List
Treat your taste buds with Double Pepper Barbecue Chicken, Peri-Peri Chicken, Chicken Tikka & Grilled Chicken Rashers
Choice of Crust
Classic Hand Tossed

Cheese Burst

New Hand Tossed
Wheat Thin Crust

Fresh Pan Pizza
Size of Crust
regular | medium | large
Domino's Pizza Price List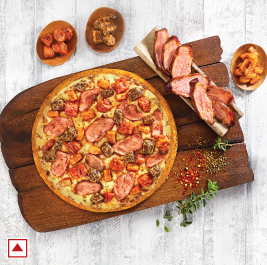 Order Chicken Dominator Pizza online from Domino's
Right after a long time of veggies, when you crave to indulge in a meaty and delicious pizza, Domino's Chicken Dominator pizza is the way to go. This pizza is topped with succulent meats that have been cooked to perfection. The toppings of this pizza will not leave any flavor out of your pizza! The pepper barbecue chicken, peri-peri chicken, chicken tikka, and grilled chicken rashers are a delightful combination. You can order Chicken Dominator online and enjoy the variety of chicken in one dish. If you wish for a simpler pizza, you can go for the Pepper Barbecue Chicken pizza. When you are looking to balance the flavors and want to indulge in various options, you can order other pizzas. A perfect way to balance the menu when you have Chicken Dominator as one of the options is to order a veg pizza. One of the most dynamic pizzas is the Chicken Golden Delight. As the name suggests, this pizza is truly a delight and is great for corn-lovers. The stringy cheese and the warm and freshly baked dough make the pizza go from good to great. Every bite is a true delight.
Explore the Chicken dominator pizza types available at Domino's
Chicken Dominator is true to its name as the king of chicken pizzas. One slice of this pizza with juicy meats can satiate your cravings and your hunger. If you are the adventurous kind, you can try the burger pizza and enjoy the joys of 2 fast foods in one dish.
Small chicken dominator pizza
Ideal size for a meal by yourself, the Domino's small Chicken Dominator can be your companion at home while watching TV or at your office when you barely have a moment to grab a bite. This pie is great for when you do not have the time for an elaborate meal and yet want to have something tasty and filling.
Medium Chicken Dominator pizza
We all know we cannot have our tiffin alone! Whether it is colleagues at work or friends in college, sharing is more fun and Domino's has made the perfect sized pizza to ensure you have more fun. The Medium Chicken Dominator is a fun-sized pizza that makes meals more interesting. If you want to add the goodness of cheese to your pie, you can go for the cheese burst base.
Large chicken dominator pizza
One of the reasons why this pizza is loved by all is the taste and the variety of sources of protein. This protein-rich large Chicken Dominator pizza is an example of how tasty a pizza can be. If you are a fan of nonveg pizzas exclusively, then there are many options to pick from. Another pizza that can turn your frown upside down is Non-Veg Supreme. This pizza has veggies as well as chicken to cater to both your cravings. Black olives, capsicum, grilled mushrooms, and chicken are the toppings that nonveg pizza employs to make it yummier.
Chicken Dominator pizza price is a pleasant surprise
This pizza is overloaded with chicken and you would expect that such a great meal might do a number on your wallet. You need not worry about that! Domino's Chicken Dominator pizza price will leave you astounded. The price primarily depends on which size you order. The pizza you get at such a great price is made lovingly by Domino's chefs. Every order is made with conviction and from scratch to ensure you are delivered the freshest and warmest pizza. The Chicken Dominator price list depends on the size and you can customize the pizza and add toppings according to your likes and dislikes. If you are looking to have a full meal of fast food, you can add courses to the meal by getting the sides, appetizers, and other delectable delights. One of the delicious things you can order is the Chicken wings. You can complete your meal with a dessert.
Easy ordering and easy delivery
Whether you are stuck in the office late at night or you are tired of cooking, Domino's is here! With deliveries to your doorstep till late, it is easy to get pizza near me whenever you have a hankering. You can easily buy Chicken Dominator pizza by downloading a free app. You can also order this pizza by logging onto the website. You can search for locations of Domino's and see where you can get Chicken Dominator near you. You can place your order online and pick it up from the outlet when you are ready. If you are looking for an amalgamation of Italian dishes and Indian tastes, you can try the Paneer Makhani Pizza. The benefit of ordering your pizza online is that you don't have to leave your home and you can enjoy the experience of having a toasty pizza at home.