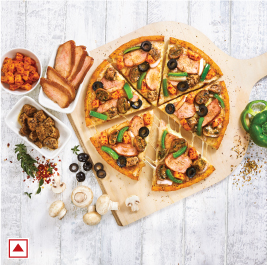 Bite into supreme delight of Black Olives, Onions, Grilled Mushrooms, Pepper BBQ Chicken, Peri-Peri Chicken, Grilled Chicken Rashers
Choice of Crust
Classic Hand Tossed

Cheese Burst

New Hand Tossed
Wheat Thin Crust

Fresh Pan Pizza
Size of Crust
regular | medium | large
Domino's Pizza Price List
Bite into supreme delight of Black Olives, Onions, Grilled Mushrooms, Pepper BBQ Chicken, Peri-Peri Chicken, Grilled Chicken Rashers
Choice of Crust
Classic Hand Tossed

Cheese Burst

New Hand Tossed
Wheat Thin Crust

Fresh Pan Pizza
Size of Crust
regular | medium | large
Domino's Pizza Price List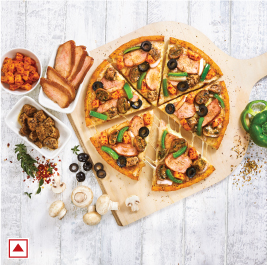 Get Non Veg Supreme from Domino's to Satiate Your Cravings
It is tough to find a Domino's pizza that you won't like, and the non veg supreme is one of them. Loaded with grilled chicken rashers, black olives, peri-peri chicken, grilled mushrooms, pepper BBQ chicken, and onions, this pizza is sure to create a flavor explosion in your mouth.
Order Non Veg Supreme Online from Domino's
Domino's provides a 30-minute home delivery service in maximum locations throughout the country, so you can easily find an outlet that delivers delicious pizzas to your desired delivery location. Whether you're too caught up in the office work or cannot find time to head to your nearest Domino's outlet, you can still enjoy a freshly baked and lip-smacking Domino's non veg supreme pizza. If you like meaty toppings a lot more, you will love ordering the non veg supreme from Domino's. Alternatively, you can also try the popular chicken dominator to satiate your hunger and cravings.
Ordering pizzas and other menu items from Domino's online is super easy and only takes a few minutes. To order non veg supreme online, you can download the official Domino's mobile app or head straight to the website. Now start by adding your favorite menu items to the cart, make the payment, and you're done. Whether you want a pepper barbecue chicken pizza or some other item, you can follow the same steps to order any item you want. If you have a coupon code handy, you can also apply the same at checkout to enjoy great discounts on the total bill value.
Explore Delectable Non Veg Supreme Pizza Menu
Domino's offers the broadest range of options available when it comes to pizzas. Every variant available at Domino's is drool-worthy and worth trying out. If you're a non-vegetarian who loves having meaty toppings on pizzas, you should consider getting yourself one from the following:
Small Non Veg Supreme Pizza - Serves 1
Small hunger calls for small treats. If you're just craving something delicious and not quite hungry, the small non veg supreme pizza is ideal for you. The best part of this pizza is you can also customize it according to your taste preferences. Whether you want the pizza crust to be made in a certain way or want more toppings, it can all be done by simply asking the person over the order counter or adding the required customizations online. A small pizza serves 1-2 people, so order accordingly.
Middle Non Veg Supreme Pizza - Serves 2
If you're starving or taking a friend with you for lunch, a medium non veg supreme pizza is all you need. This delectable pizza is made using generous amounts of black olives, onions, grilled chicken rashers, pepper BBQ chicken, and grilled mushrooms. The use of 100% authentic mozzarella cheese makes the pizza more flavorful. You can either have it alone or pair it with stuffed garlic bread and a beverage on the side.
Large Non Veg Supreme Pizza - Serves 3
Those planning for a treat should stick to a large non veg supreme pizza. It is bigger than a medium pizza and is enough for 3 to 4 people in a group. You can also make the large pizza customized as per your taste preferences.
Every different-sized pizza can be customized as per requirement, and it includes changing the pizza crust type for maximum flavors. If you're looking to get the best of a burger and a pizza, you can try out Domino's burger pizza.
Domino's Non Veg Supreme Pizza Price Will Make you drool
Whenever in doubt, place an order for Domino's non veg supreme pizza. You will never regret this decision. It comes at a starting cost of Rs. 339, excluding taxes. The price will alter as and when you customize the pizza. Besides adding more toppings for an additional cost, you can also get the pizza crust of your choice. You can also make this pizza cheesier by opting for extra cheese for slightly higher prices. If you're looking for some quick discounts on Domino's non veg supreme pizza price, look for the latest coupons and available offers.
You can head to the coupons and deals section on Domino's website and app and check what offers are available. If no coupons are available at the moment, you can consider ordering a combo meal that includes a pizza, chicken wings, and a beverage. The same can be done with other available chicken pizza. Combo meals are generally offered at steep discounts, so you can enjoy them without any fuss.
Get Domino's Online Delivery Within 30-Minutes
Depending on the desired delivery location, Domino's delivers every order within 30-minutes or less. It ensures the items getting delivered are hot and fresh. The best part about non veg supreme online delivery is you can avail of this service even during late-night hours. If you have someone in your acquaintance that loves Domino's pizzas, you can consider either placing an online order for them or gifting some e-gift vouchers that they can use to place their favorite Domino's orders. When you place your online order for home delivery, you also get a real-time order tracking status that tells you the exact location or the stage of your order, ensuring maximum convenience.
Domino's offers access to the full menu for those ordering online, so whether you love having their chicken golden delight pizza or taco Mexicana, you can get it all home-delivered within a few minutes. If you're on your way to the office or home, you can also consider placing an online order for takeaway from the nearest outlet. Just search for an outlet serving non veg supreme near you online, and you're done. Online ordering at Domino's is super easy, quick, and can be completed in a few steps.