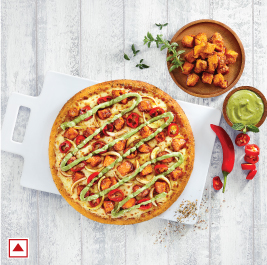 The wholesome flavour of tandoori masala with Chicken tikka I onion I red paprika I mint mayo
The wholesome flavour of tandoori masala with Chicken tikka I onion I red paprika I mint mayo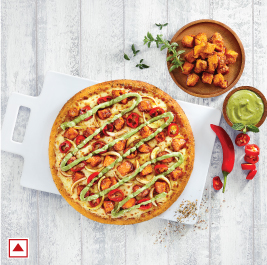 Order Indi Chicken Tikka Pizza Online From Dominos
Domino's indi chicken tikka pizza is one of the most delicious and popular pizzas created for the indian population. It creates a delightful fusion of desi and Italian tastes on your tongue, and is made with the tastiest, most tender and juicy chicken pieces, irresistibly melt-in-your-mouth cheddar, and fresh onion and paprika and the most famous mint mayo sauce! You can have a fantastic meal if you order indi chicken tikka online near you the next time you want to satisfy your cravings and satiate your hunger.
You may place an order by logging into Domino's app or website and making a few easy steps. Consider adding the chicken dominator or the pepper barbeque chicken pizza for a big chicken-filled meal if you have friends coming over to your place.
This is an exceptionally good lunch for chicken fans since you'll receive high-quality chicken that's both delicious and inexpensive all on one single platter.
With Domino's rapid delivery, your order will be at your door in no time. The indi chicken tikka pizza is available in a variety of sizes and crusts, allowing you to customize as you wish
Explore Indi Chicken Tikka Pizza Pizza Menu Available At Dominos
Quickly log on to the domino's app to go through the wide range of chicken pizzas that is offered by Domino's near you. Feel free to add some more of the toppings that you like and add a few side dishes like the chicken wings or garlic bread!
With domino's app, you can easily customize your order and have a meal that is designed just for you! Check out the various additional toppings and other side dishes that are available on the menu.
Small Indi Chicken Tikka Pizza
The small indi chicken tikka pizza is priced at Rs 399/- only. The perfect meal to end your long hard day with, it will make you forget all your woes and satisfy your hunger in one strike. It easily serves one to two people and if you want, you can add a few desserts or side dishes too.
Medium Indi Chicken Tikka Pizza
The medium indi chicken tikka pizza, priced at Rs. 599/- only, serves 2-3 people easily and makes for a great meal when you have a small gathering at home. It comes in various crusts such as cheesy Burt and thin crust so be sure to try them as well for a wonderful experience.
Large indi chicken tikka Pizza
The large indi chicken tikka pizza serves 3-4 people and is priced at Rs. 879/- only. You can add your choice of additional toppings to this to make sure your order suits you just right.
Order Indi Chicken Tikka At Best Prices
One of the most popular and scrumptious things on the menu is Domino's indi chicken tikka pizza! This pizza is great for individuals who are hardcore chicken lovers, especially chicken in Indian flavors.
They are juicy and fresh, with a flavor that packs a punch. It is made with tandoori masala, juicy chicken bits, onion and paprika and the delicious and forever favorite mint mayo dip.
The domino's indi chicken tikka price is so low that you will be unable to resist ordering it over and over again! Just walk into your nearest Domino's outlet and order the pizza along with the pasta of your choice and burger pizza and you will have the best meal of your life.
This is a fantastic Domino's menu item to order, especially if you're having a chill night with your friends. Feel free to add a few more things, such as a delicious chicken pizza or some garlic breadsticks and cheese dip, and you'll have enough food for everyone! You'll be a hit with your buddies if you order from Domino's.
Even if you buy from Domino's often, you won't have to worry about burning a hole in your wallet since it is affordable and the promotions are plentiful!
Get Indi Chicken Tikka Pizza Delivered At Your Doorstep
Your indi chicken tikka online delivery will reach you in next to no time if you place your order through the Domino's app or the website! You can also find multiple offers on your order of indi chicken tikka near you on the domino's app.
All you have to do is look for 'food near me' and you will be sorted! Another great thing about Domino's is that you can easily place an order for your loved ones and send them a meal as a gift.
Check out the E-gift Vouchers that are available on the site and make their evening a special one by buying them food, because that is truly the best way to show someone you love them! With the super fast delivery that is offered by domino's, the gift order will reach them in no time and you will quickly become one of their favorite people ever! Domino's delivery partners make sure that your meal reaches you in a timely manner, so don't worry about your order getting cold, just get cozy and prepare to have a kickass meal.