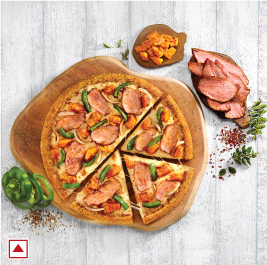 Grilled Chicken Rashers I Peri-Peri Chicken I Onion I Capsicum
Choice of Crust
Classic Hand Tossed

Cheese Burst

New Hand Tossed
Wheat Thin Crust

Fresh Pan Pizza
Size of Crust
regular | medium | large
Domino's Pizza Price List
Grilled Chicken Rashers I Peri-Peri Chicken I Onion I Capsicum
Choice of Crust
Classic Hand Tossed

Cheese Burst

New Hand Tossed
Wheat Thin Crust

Fresh Pan Pizza
Size of Crust
regular | medium | large
Domino's Pizza Price List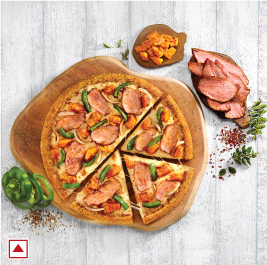 Order Chicken Fiesta Online From Domino's
Domino's chicken fiesta pizza is one of the most popular pizzas that Domino's has come up with. Made with the tastiest, most tender and juicy chicken pieces, deliciously melt-in-your-mouth cheese and fresh onion and capsicum, it is truly a fun fiesta of flavors in your mouth.
You can order chicken fiesta online near you next time you have a movie night or cheat day and enjoy a delicious meal. You can log on to domino's app or website and with a few simple clicks place an order. If you are more than just one person, consider adding the chicken dominator or the indie chicken tikka pizza for a hearty chicken-filled meal. This is especially a great meal for chicken lovers as you'll get the best quality chicken, that is tasty and cheap all in one place.
These days, ordering online has become very very easy and with the fast delivery ensured by domino's, your order will reach you in absolutely no time. The chicken fiesta comes in various sizes and crusts which will make your order even tastier! Made with grilled chicken rashers and peri peri chicken, this is the perfect option for chicken lovers.
Explore Chicken Fiesta Pizza Menu Available At Dominos
You can log on to the domino's app to check out the wide range of chicken pizza that domino's offers. Add the toppings that you like and expand your order by adding another delicious non veg supreme pizza to complete your order.
You can also go ahead and customize your order so that you can have it exactly the way you like it. Check out the various additional toppings and other side dishes that are available on the menu.
Small Chicken Fiesta Pizza
The chicken fiesta pizza comes in multiple sizes one of which is small or regular, priced at Rs 279/- only.
It is the perfect meal to end your day with if you've had a long day at work as it serves one person. You can pair it with the small non veg supreme pizza if you are hungrier!
Medium Chicken Fiesta Pizza
The medium chicken fiesta pizza, priced at Rs. 499/- only, serves 2-3 people easily and makes for a great date night meal! It comes in various crusts so be sure to try them. Club it with the medium non veg supreme pizza for an even better date.
Large Chicken Fiesta Pizza
The large chicken fiesta pizza serves 3-5 people and is priced at Rs. 729/- only. This, along with the large non veg supreme pizza will be a heavenly meal for chicken lovers!
Order Dominos Chicken Fiesta Pizza At an Exciting Price
Domino's chicken fiesta pizza is one of the most popular and delectable items on the menu! Made with chicken rashers and peri peri chicken, with onion and fresh capsicum, this pizza is perfect for people who like eating chicken and adore them because they are juicy and fresh, with a taste that delivers a punch.
The Domino's chicken fiesta price is so inexpensive that you will be unable to resist purchasing it several times! You may choose your local Domino's location and buy roasted chicken wings along with your pizza order and your order will be delivered to you in no time.
This is one of the greatest Domino's menu items to order, particularly if you're having a movie or game night with your pals! Simply add a few additional items, such as a tasty chicken pizza or some garlic breadsticks and cheese dip and you'll have enough food for everyone! Ordering from Domino's will make you a hit with your friends.
Love eating Domino's? Now order carefree without having to burn a hole in your pocket since it is affordable and can easily be clubbed with offers.
Check Out The Tastiest Chicken Fiesta Pizza Near You
If you are looking for restaurants near you that deliver the tastiest food you've ever had, wait no more and place your order with Domino's. With the various outlets present all over the country, domino's offers the fastest delivery so your order can reach you while it's hot.
Your chicken fiesta online delivery will reach you almost as quickly as you place your order! Just log on to domino's app or the website and look for chicken fiesta near you and you'll get the option of placing an order! With the great deals and discounts offered by Domino's, you'll be sure to save a few bucks on your order, and honestly, what could be better than that! Check out the E-gift vouchers available on the website and share this with your close ones! You will definitely have a meal that you remember for a very long time. Domino's ensures the best quality ingredients and cheap rates.